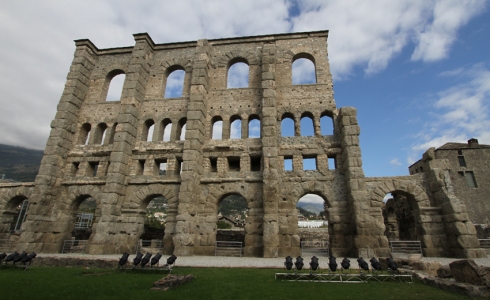 Wine:
Valle d'Aosta Enfer d'Arvier DOC
Facts about this wine
Wine: Red wine
Taste: Dry
Volume: Strong
Min. alcohol: 11.5%
Mandatory Storage: Min. 5 mos.
Storage potential: 5 years

The red wine, Valle d'Aosta Enfer d'Arvier DOC, uses the grape, Petit Rouge (85-100%), with permission to use Vien-de-Nus and/or Neyret, Dolcetto, Pinot Noir, Gamay (0-15%).
The wine is cultivated in the central part of the valley, on the stony slopes around the city of Arvier, where the name "l'Enfer" (inferno) refers to the often exceptionally warm climate.
The wine ranges from ruby red to medium garnet red, often a quite intense garnet, and has a very sharp, but fruity, taste when young. The bouquet is delicate and characteristic. The taste is velvety, with a pleasant, slightly bitter aftertaste.
Mandatory aging is 5 months, and the shelf life is 5 years.
There is also a Superiore version (Supérieur) with a longer aging requirement.
Great dishes to have with Valle d'Aosta Enfer d'Arvier DOC
Click on a topic to find more wines