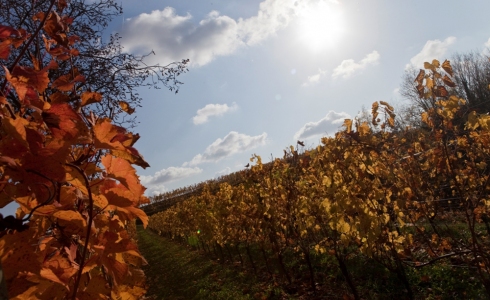 Wine:
Friuli Colli Orientali Bianco DOC
Facts about this wine
Wine: White wine
Taste: Dry
Volume: Medium
Min. alcohol: 11%
Storage potential: No saving potential

Whenever there is a label mentioning Friuli Colli Orientali Bianco DOC, it suggests freedom of choice, as this white wine can be made of any white grape from the zone.
The list is pretty long and may include Chardonnay and/or Pinot Bianco grapes, Picolit, Malvasia, Ribolla Gialla grapes, Pinot Grigio, Resling Renano, Sauvignon, Tocai and Verduzzo grapes. Müller Thurgau and Traminer Aromatico, however, cannot be used.
Often, Friuli Colli Orientali Bianco DOC is a more or less intense straw yellow white wine, with a delicate and harmonious scent, as well as a dry and lively taste.
A Friuli Colli Orientali Bianco Superiore DOC is also available, with 11.5% minimum alcohol content. Also, a barrel-aged Friuli Colli Orientali Bianco Riserva DOC is also produced, with minimum 11% alcohol content and the required aging of 2 years.
The label mentions if the wines are from the subzones of Cialla and Rosazzo.
Great dishes to have with Friuli Colli Orientali Bianco DOC