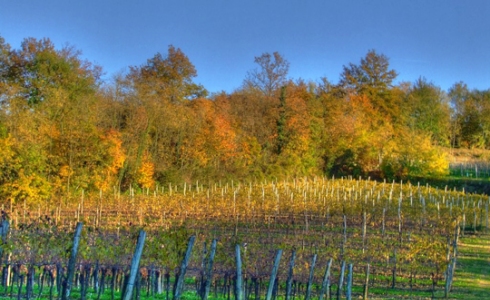 Wine:
Ramandolo DOCG
Facts about this wine
Wine: White wine
Kind: Sweet wine
Taste: Semi sweet to sweet
Volume: Strong
Min. alcohol: 14%
Storage potential: 5 years

Ramandolo DOCG was previously a subzone of Friuli Colli Orientali DOC (called Colli Orientali del Friuli DOC until 2011) and it is the name of one of the four DOCG-classified wine of the main zone Friuli-Venezia Giulia.
Friuli Colli Orientali Ramandolo DOCG is produced in the northern part of the zone, in the municipalities of Nimis and of Tarcento, in the province of Udine, where Monte Bernardia (1732m) offers protection against the cold wind from the Alps. The name Ramandolo refers to a village in the municipality of Nimis.
Ramandolo DOCG is a sweetish or sweet, golden, dessert wine, made from the Verduzzo Friuliano grape (100%), locally known as Verduzzo Giallo. Within the vinification process, the grapes are allowed to dry, either on the vine or in special drying rooms, as they get "the noble rot" (botrytis cinerea), or, in Italian, "muffa nobile". Handpicking is almost mandatory, since the vineyards are rather steep.
The result is an interesting dessert or meditation wine, with an intense and characteristic scent. The taste is velvety and full-bodied, with moderate acid, and it can vary from sweetish to pleasantly sweet, with more or less tannic acid and hints of wood from the barrel-aging.
The aging potential for Ramandolo DOCG is 4-5 years.
Great dishes to have with Ramandolo DOCG

Dessert

Quiet moments
Click on a topic to find more wines