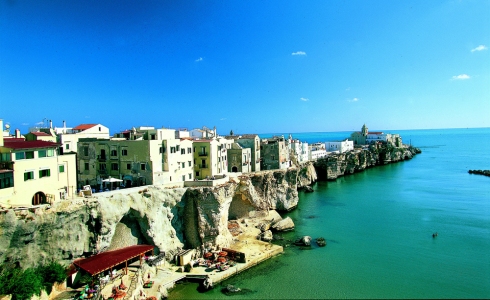 Wine:
Rosso di Cerignola DOC
Facts about this wine
Wine: Red wine
Taste: Dry
Volume: Medium
Min. alcohol: 12%
Storage potential: 4 years

This is an exciting, but unfortunately rare red wine, grown in the northern part of Apulia, in the province of Foggia, around the city of Cerignola.
Rosso di Cerignola DOC is made from Uva di Troia grapes (55-100%), Negroamaro (15-30%), Montepulciani and/or Barbera, Sangiovese, Malbec or the white grape Trebbiano Toscano (0-15%).
As a young wine, it is ruby red, but with age, it becomes brick red. The wine has a good bouquet, with a dense and robust flavor that develops even more after 4-8 years. The aroma is vinous and pleasant, revealing a high alcohol content.
Here is the paradox: while Rosso di Cerignola DOC, in theory, has been considered a very exciting product for years, it has not been produced for a very long time. Fortunately, some new quite heavy, full-bodied wines recently appeared from oblivion and they promise much, which makes them worth the wait.
To enjoyed with antipasti, soups and cheese.
Storing potential for Rosso di Cerignola DOC is 4 years.
A barrel-aged Rosso di Cerignola Riserva DOC is also seen, and mandatory aging for this type is 2 years in wooden barrels with a minimum of 13% alcohol content. Storing potential for the Riserva is 6-7 years.
The Riserva goes well with roast and red meat.
Great dishes to have with Rosso di Cerignola DOC
Click on a topic to find more wines