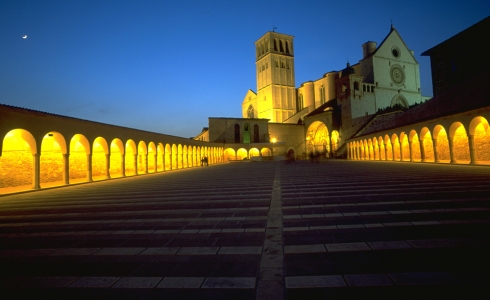 Region:
Umbria
Umbria is called "cuore verde d'Italia" (The green hearts of Italy). The beautiful, green hills that characterize the region's landscape are on par with Tuscany's beauty. The same is true of the talent for wine production.
Outside the country's borders, it's primarily the white wine, Orvieto DOC, that gets people talking, as it's been an enormous export success. But there is unbelievable potential for other quality wines in the region.
Wine has been produced in this area since the Etruscans, and the Umbrians lived here in the pre-Roman period. The two peoples who gave the region the name it has today had territories on each side of the Tiber, which is evident in the large number of discoveries of wine cultivation tools which have been found in excavations all the way from Puglia (Apulia) to Orvieto.
The rival Romans found the Etruscan's wine to be a bit too lightweight for imperial palates, so it wasn't until the end of the Middle Ages and the Renaissance that the Umbrian wines found their way to writers' pens and glasses. It was especially Orvieto, which back then was a golden, sweetish wine, that attracted attention.
Still, Umbria had quite a few problems finding it's way to interested palates. The final breakthrough came when Giorgio Lungarotti presented his Torgiano Rosso and thus solidified Montefalco as an oenological treasure chest.
Since then, the outside world has really discovered the region's exciting, powerful wines. Torgiano Rosso Riserva and Montefalco Sagrantino have received DOCG status, and now other wines from the region have found their place on the wine menu as some of Italy's most potent red wines.
Umbria belongs among Italy's smallest regions, and with its location between Tuscany, Marche and Lazio, it's one of the few without access to the sea. The Tiber cuts through the region from north to south and creates, with its tributaries, a crisscross valley of sorts. This produces a very fertile landscape, with green hills and rising fields with wheat, potatoes, tobacco and, particularly, truffles.
The wine here makes up about 2% of Italy's combined wine production, but they've still managed to make a lasting impression with the aforementioned Montefalco Sagrantino, Torgiano Rosso Riserva and lately with the Colli del Trasimeno.
Umbria is actually a treasure chest of local wine discoveries. In addition to its 2 DOCG and 11 DOC wines, there's a long list of IGT wines to try. We recommend starting your search around the cities of Assisi, Spello, Bettona, Narni and Cannara, where they use a surprising variety of grapes.
In addition to Italy's standard grapes: Sangiovese, Canaiolo, Trebbiano and Malvasia, that well-known grape of antiquity, Grechetto, can also be found, along with a palette of international types, dominated by Chardonnay, Merlot and Cabernet.
As far as wine museums go, we can recommend Museo del Vino in Torgiano (owned by Lungarotti). The place has practically become a model for these types of museums and has been copied around the world. You can also visit Enoteca Provinciale in Perugia or go wine shopping in Enoteca Vino Vino in Terni and La Loggia and Vino Vino in Orvieto.
Read more about the wines from Umbria by clicking i the top menu in the right side.