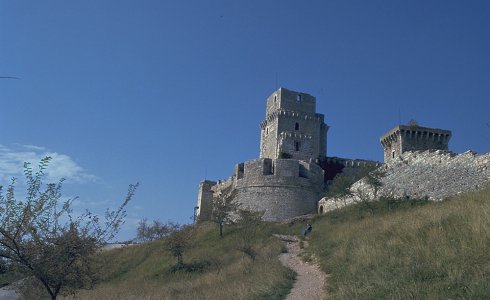 Wine:
Sagrantino di Montefalco DOCG
Facts about this wine
Wine: Red wine
Taste: Dry
Volume: Strong
Min. alcohol: 13%
Mandatory Storage: Min. 30 mos.
Storage potential: Above 10 years

Until a few years ago, Sagrantino was exclusively known among an inner circle of gourmets, but when Montefalco Sagrantino was promoted to a DOCG in 1992, this zone and its wines really came into focus.
The Sagrantino grape is cultivated exclusively around the city of the same name, and it's a bit uncertain where the name comes from. One thing is certain, however, it is derived from the word "sagra" (festival), and refers to the fact that the wine was used in connection with sacraments in the Catholic Church. A Passito, a sweetish, golden wine produced by Franciscan monks, was originally used on these occasions.
Some experts also believe that Sagrantino comes from the Saracens, while others contend that it comes from Piemonte or even as far away as Arabia or medieval Catalonia in Spain. Maybe genetic research will one day determine the grape's true origins.
One of the Sagrantino grape's characteristics is its thick shell, which naturally gives the wine rich quantities of color, acid, tannins and especially sugar. The result is a dark, dominating and significant wine, with a high alcohol concentration, often around 14-14.5%.
The production techniques are under constant improvement, and some producers, such as Arnaldo Caprai, Antonelli, Adanti and other new wineries, conjure up wine of great elegance and durability.
Generally speaking, Sagrantino di Montefalco DOCG is an intense, ruby red, powerful red wine cultivated from the Sagrantino grape (100%), and it represents one of the most significant developments within Italian wine production over the past decade.
The Sagrantino grape contains a naturally high level of tannins, which results in a tight and at times almost bitter wine. As mentioned, this is an intense, ruby red wine with purple reflections that become more garnet with age. The aroma is delicate and characteristic, with hints of herbs, licorice and blackberry. The taste is dry and balanced.
DOCG requires barrel aging, but there is a great deal of disagreement regarding whether the aging should be in small barrriques or large oak barrels, just as there's also disagreement about how you tame Sagrantino's significant, (interesting) wildness.
Mandatory aging is 30 months, of which 12 months is in the barrel.
Goes well with roast and red meat, or whatever strong food is available in the kitchen.
The sweetish Montefalco Sagantino Passito DOCG offers a completely unique experience, which, in the well-produced versions, tames the wild and harsh tannins with its light sweetness. Not without reason, it has often been compared with Recioto della Valpolicella DOCG from Venice, and the drier Sagrantino di Montefalco with Amarone delle Valpolicella DOC, also from Venice.
Montefalco Sagrantino Passito must contain 14.5% alcohol and is made from partially dried grapes, but is, as stated, sweetish, balanced and highly addictive. The mandatory aging period is 30 months.
Great dishes to have with Sagrantino di Montefalco DOCG