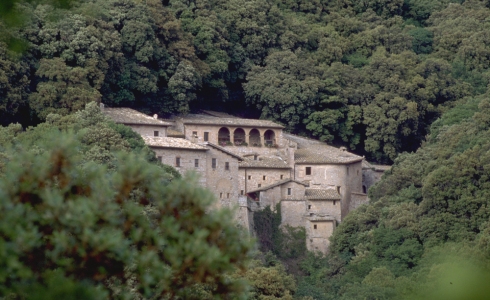 Wine:
Orvieto DOC
Facts about this wine
Wine: White wine
Taste: From dry to sweet
Volume: Medium
Min. alcohol: 11.5%
Storage potential: 3 years

The wines from Orvieto are cultivated in a beautiful area around the equally attractive and beautifully situated mountain city, Orvieto, in the southeastern part of Umbria, and this wine is quite likely the region's most well-known white wine.
Orvieto DOC is cultivated from the Grechetto (40-100%) and Procanico, the local name for Trebbiano Toscano, (20-40%) grapes, with permission to use up to 40% other local, green grapes, such as Drupeggio, which is the local name for Canaiolo Bianco, or Chardonnay and Sauvignon Blanc.
Earlier in history, the Orvieto wines were golden and a bit sweet, but today they are predominately light, dry and uncomplicated, almost neutral, as a result of the new production methods. Despite this neutrality, it is possible to find noteworthy, harmonious and fruit-rich white wines from this zone.
Orvieto DOC is a light, straw yellow, with varying intensity and a delicate and inviting aroma. The taste is dry with a slightly bitter aftertaste, After 2-3 years of aging, the wine develops considerably more style.
The minimum alcohol concentration is 11.5%.

There's been a bit of a renaissance as of late for the sweet Orvieto wines. There are three different types:
Abbocato: a slightly sweet wine. The word actually means "mouth-filling"
Amabile: is medium-sweet, or slightly sweeter than Abbocato. The name means "worthy of love"
Dolce: sweet
As far as the sweet wines go, we highly recommend looking after a wine that has been attacked by 'botrytis cinerea', also known as 'noble rot', which is often seen late in the fall. The rottenness occurs either while the grapes are sitting in bunches or during light drying on stands. With their unusually full bouquet and taste, nurtured through aging, these wines can rival the best wines from Sauternes.
Orvieto Classico DOC encompasses the oldest fields around the medieval city of Orvieto. There is also an Orvieto Superiore (Classico) DOC, that must contain a minimum 12% alcohol concentration, be aged a minimum of 4 months and have a smaller harvest yield.
Grapes harvested no later than October 1 of the harvest year, can be used in the type called 'Vendemmia Tardiva' (late harvest), and the color of these wines ranges from straw yellow to golden, and they have an appealing aroma. The taste is sweet and harmonious. The minimum alcohol concentration is 13%, and they are available as dry, demi-sweet and sweet.
It's not unusual to see many well-known producers from Tuscany on Orvieto's labels.
Orvieto is especially good young.
Mandatory aging: Superiore or Superiore Classico must contain a min. 12% and have at least 4 months of aging. Superiore can first be sold after March 1 of the year following the harvest.
Great dishes to have with Orvieto DOC
Click on a topic to find more wines