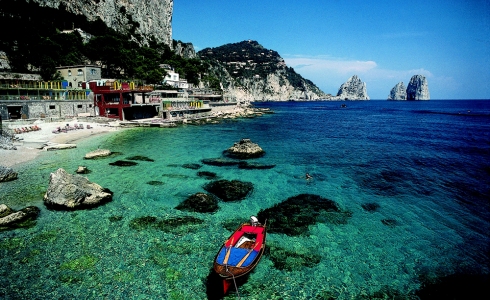 Wine:
Taurasi DOCG
Facts about this wine
Wine: Red wine
Taste: Dry
Volume: Strong
Min. alcohol: 12%
Mandatory Storage: Min. 3 years
Storage potential: Above 10 years

Taurasi DOCG (Taurasi Rosso DOCG) is viewed by many as nothing less than southern Italy's greatest red wine, or wine in general, and it is a jewel. The wine has its name from one of the 17 communes in the Avellino province. The vines are in the hills northeast of the city, Avellino, especially around the medieval city of Taurasi. The city itself is worth a visit.
Taurasi DOCG has been called "The Barolo of the South", and there are actually certain similarities between the two giants. Partly because both wines have heavy tannins, which are "off-limits" for children, and partly because the area is reminiscent of Barolo's Langhe zone in Piemonte, in terms of climate, soil conditions and vegetation.
In Piemonte, the Nebbiolo grape matures with the same stubbornness as Taurasi DOCG's main grape Aglianico, which is also harvested in the late, misty fall, and both giants age with the same elegance. At the end of the day though, they keep a reserved and respectful distance from each other - as real Monarchs should do.
As it is today, Taurasi DOCG is Campania's best-known and most respected wine. This is due to its full structure, but also its excellent aging potential, thanks to its high content of gum-biting tannins, resulting from its very late harvesting.
When young, Taurasi DOCG is a nice ruby red wine. With age it changes to an almost dark mahogany and develops a noticeably deep bouquet and tastes of cherries, violets, balsamic vinegar and plums. The finish has an elegant hint of spices. In the mouth, Taurasi DOCG gets almost warm and fruity, with pleasant acidity and elegant nuances from the barrel-aging. An unusual and breathtaking experience.
In addition to the Aglianico grape (85-100%), up to 15% of local blue grapes, most likely either Piedirosso, Sangiovese or Barbera. However, leading producers prefer a pure Aglianico wine, which ages in large barrels before being poured in bottles. Though now there is a tendency to age the wine in small barriques.
Mandatory aging is 3 years, of which at least 1 year must be in oak barrels. Some producers age Taurasi an additional 1 year in the bottle. Alcohol content is minimum 12%.
There is also a Taurasi Riserva DOCG (Taurasi Rosso Riserva DOCG), where the aging requirement is a minimum 4 years, of which minimum 18 months must be in wooden barrels. The minimum alcohol content for the Riserva is 12.5%.
The shelf life is long. It's not unusual to find a 30-year-old Taurasi DOCG, which still has vigour and power.
Finally, a free tip: If you find a Taurasi vintage 1968 from Mastroberardino, don't hesitate to get it. It's legendary (but expensive).
Great dishes to have with Taurasi DOCG
Click on a topic to find more wines