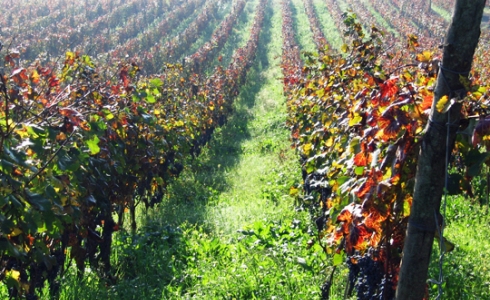 Wine:
Asprinio di Aversa DOC
Facts about this wine
Wine: White wine
Kind: Fra stille til mousserende
Taste: Dry
Volume: Medium
Min. alcohol: 10.5%
Storage potential: No saving potential

Originally this straw yellow, Neapolitan white wine was served in bars as a local specialty, but the wine's positive development meant at it was classified as a DOC in 1993. Asprino di Aversa DOC is the original name, but it is also found under the name Aversa DOC.
The wine is cultivated in the southern part of the Caserta province and is produced from the wild grapes from the Apennines, Asprinio Bianco (85-100%),with permission to use local, non-aromatic green grapes (0-15%).
Asprinio di Aversa DOC is a slightly acidic and aromatic wine. The aroma is delicate and characteristic for the type, and the taste is significantly aromatic, dry and fresh.
If "Alberata Aversana" or "Vignetti ad Albarata" is on the label, it means the grapes come from vines where the foliage winds up between the trees, often tall poplars, with the help of steel wire and at heights of up to 50 feet. All a legacy inherited from the Etruscans, where the wine was wound up poplar trees, and today has been preserved as a cultural heritage.
As an aside: You can really wonder at the logic of plucking grapes 50 feet in the air, and the method probably wouldn't be approved by the Department of Labor.
Asprinio di Aversa DOC is also available in a dry, fresh and foamy Spumante version, also made from 100% Asprinio grapes.
Both versions go well with fish, while the Spumante can also be served as an aperitif. Both should be enjoyed young.
Great dishes to have with Asprinio di Aversa DOC