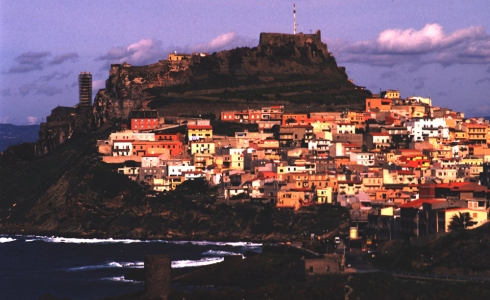 Wine:
Vermentino di Sardegna DOC
Facts about this wine
Wine: White wine
Kind: Fra stille til mousserende
Taste: From dry to sweetish
Volume: Medium
Min. alcohol: 10.5%
Storage potential: No saving potential

The demand for Vermentino di Sardegna DOC is increasing at worldwide level, along with the quality. The basic grape is Vermentino (85-100%), with the permitted addition of other local white varieties from all over the island (0-15%).
The wine has a color ranging from a very light to a more intense straw-yellow color, with brilliant, bright green reflections. The scent is delicate, inviting and typical of the wine. The taste is dry, with a slightly bitter aftertaste.
Vermentino di Sardegna, either slightly sparkling or with boldly dotting the tongue, is an extremely pleasant wine.
The minimum alcohol content is 10.5%. In case of a semi-sweet type of wine, the alcohol content will be 9.5% + 1% residual sugar.
Finally, a sparkling Vermentino di Sardegna Spumante is also available, with 11% alcohol content and an intense, fine foam, with persistent bubbles. The taste is either dry or sweet, and in both cases it is a fresh wine, with a perfect bitter aftertaste.
This is the perfect wine for fish, in all editions. The sweet type is suitable as an aperitif.
Great dishes to have with Vermentino di Sardegna DOC
Click on a topic to find more wines