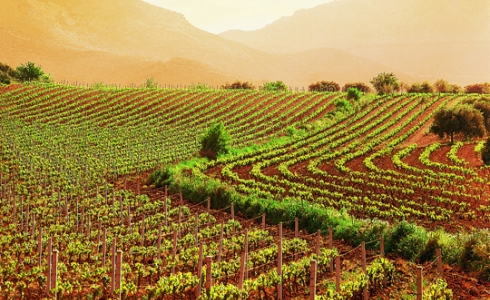 Wine:
Vermentino di Gallura DOCG
Facts about this wine
Wine: White wine
Taste: Dry
Volume: Strong
Min. alcohol: 12%
Storage potential: 3 years

The Vermentino grape is found in many places around the Mediterranean, from Spain to Liguria, as well as on the two major islands of Corsica and Sardinia. The grape is also grown in small areas on the island of Madeira and in some places of southern France.
Genetically, the Vermentino grape is of Spanish origin, its journey throughout world starting from Spain to Corsica, in the 14th century, and then to Liguria. Its appearance in Sardinia is relatively new, in fact not dating further back than the last decades of the last century. The first plantation of the vine occurred in the Gallura zone, on the island's northern tip.
There are indications that Vermentino finds its best expression of its distinctive personality in Gallura, an area which was continually under the influence of a sometimes fierce wind from the Alps, the mistral. Moreover, the dry, hard soils of Gallura are especially suitable for other types of agricultural products.
Vermentino di Gallura is Sardinia's only DOCG type so far, and the type grown on the wooded hills of Gallura, in the northeastern part of the island. As mentioned, the basic grape is Vermentino (95-100%), with the permitted addition of local, non-aromatic grapes (0-5%).
The production zone includes 21 municipalities in the province of Sassari and parts of the Budoni province and San Teodori, in the Nouro province.
The wine has a straw-yellow color, with green reflections, and a subtle, intense and delicate fragrance, which accompanies its fine body. The taste is fruity and can be described as soft and alcoholic, with a slightly bitter aftertaste. Some wines can impress with their distinctive intensity.
The minimum alcohol content is 12%, but it can often reach 14%.
A Superiore type is also available, with a minimum alcohol content of 13%.
Without exaggerating, one can admit that Vermentino di Gallura is on the short list of Italy's greatest white wines.
The wine pairs well with regional fish dishes.
Great dishes to have with Vermentino di Gallura DOCG