Other Zones in Lombardia
Info about Italian Wine Guide
Regions: 20 Zones: 172 Types of wine: 1283 Words in dictionary: 145

Wine

for

Lobster

?
We've found 35 wine(s) in our Italian Wine Guide which are good for Lobster.
Read more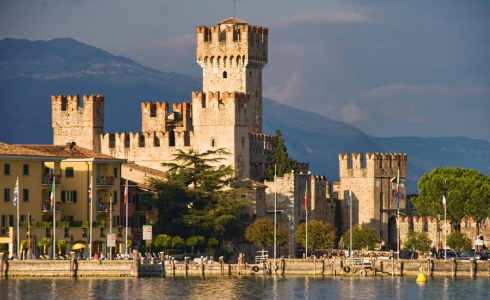 Wine:
Valtellina Superiore DOCG
Facts about this wine
Wine: Red wine
Taste: Dry
Volume: Strong
Min. alcohol: 12%
Mandatory Storage: Min. 2 years
Storage potential: 7 years

Valtellina Superiore DOCG is one of the few wine areas in Lombardy's northern Alps and is divided up into an additional five geographically-divided sub-zones. The entire area stretches along the northern banks of the Adda River, from Tirano in the east and almost to Morbegno in the west. All in all, it's a stretch of approximately 40 kilometers (25 miles).
Although there can be odd exceptions, in true Italian style, generally speaking the red wine, Valtellina Superiore DOCG, must contain at least 90% Chiavennasca (Nebbiolo), and up to 10% local, non-aromatic red grapes can also be added, most often Rossola Nera, Brugnola or Pignola.
To summarize, the young wine is ruby red in color, but with age it gets a more garnet red color, the bouquet also becomes more complex and dry, while the acids reduces and give a smoother and more pronounced taste – in certain vintages very pronounced. Generally, the taste is persistent, refined, dry, slightly tannic, but smooth, harmonious and characteristic.
The minimum alcohol concentration is 12% and the mandatory aging is 2 years, of which a minimum of 12 months in barrels, starting December 1st of the harvest year, at the latest. There is also a Valtellina Superiore Riserva DOCG with a mandatory aging requirement of 3 years, of which 12 months must be in wooden barrels.
As mentioned, there are five sub-zones, which will always be specified on the label. They are Grumello, Inferno, Sassella, Valgella and Maroggia. In these cases, all grapes must come from the area in question.
In the rare event that "Stagafassli" is mentioned on the label, don't be confused. This merely refers to the fact that red wine was tapped in Switzerland. Much of Valtellina's wine production is in fact controlled by Swiss investors, and the wine can be transported across border between the two countries duty-free.
Regardless of what is on the label, Valtellina Superiore DOCG goes perfectly with roast or aged cheese.
Great dishes to have with Valtellina Superiore DOCG

Roast

Mature cheese
Click on a topic to find more wines